Goals
Whether you're a weekend warrior, a professional athlete, or you simply want a more active lifestyle, we all have fitness goals we want to reach. Regardless of our relationship with sports and physical fitness, we always want to feel and see the results of our efforts.
As we age, we also want to minimize our injuries and accelerate recovery time. Biohackr offers innovative and effective techniques to
heal injuries,
reduce inflammation, and
increase exercise endurance
increase muscle mass.
With all Biohackr Health services, we tailor your treatment to you and our body-focused therapies are no exception.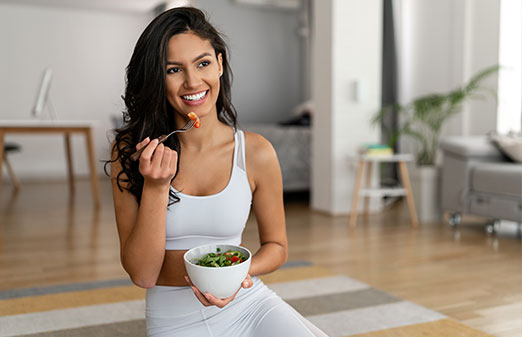 Explore Topics on this Page:
What Concerns Do You Wish to Improve?
Injury

Chronic and acute injuries can be debilitating to your quality of life. As you get older, it's not uncommon for older injuries to flare up and even exacerbate with aging. Our non-surgical therapies can catalyze healing and reduce pain, as well as other symptoms, associated with previous injuries.

Exercise Endurance

Maximize your physical performance by enhancing natural stamina and exercise endurance. From nutrient boosts to therapeutic IVs and bio-identical hormone replacement, Biohackr can determine an effective treatment plan to achieve your goals.

Muscle Mass

When it comes to building muscle mass, a thorough body composition analysis is often an excellent place to start. We provide a breakdown of your body's core components to guide you on your fitness journey, giving you the best possible foundation to increase muscle mass and see the results you desire.

Inflammation

Reduce inflammation and encourage tissue healing with innovative treatments designed to restore your body's natural production of essential coenzymes and peptides, which generally decline as you age.

Energy Levels

Feeling tired no matter how much sleep you get? There are many treatments available to assist in energy conversion, boost metabolism, and regulate your sleep cycle, helping ensure you have the appropriate energy levels to achieve your fitness goals.

Competition/Race Day

Pre-hydrate with any of our IVs, which are specially formulated to help with optimizing muscle function and recovery. Supercharge your system with a Myer's Cocktail — originally designed to deliver high doses of antioxidants and nutrients, which help with both performance and the recovery period. Running short of time? Our Quick IVs only take 15 minutes!
Therapies
WHAT:NAD+ is an essential co-enzyme produced naturally in the body that aids in cellular energy and mitochondrial health. When it comes to the body, NAD+ therapy can help protect blood vessels against age-related hardening, increase metabolism, enhance muscle strength and endurance, and activate enzymes involved in DNA repair and the body's inflammation response.

TIME: Therapy with NAD+ usually takes longer than the usual vitamin IV. Allow yourself 90 to 120
minutes or more to complete an IV per each 250 mg/dose.

COST: 1000 mg single dose of NAD+ with one liter of hydration included — $700; 500 mg dose —
$400; 250 mg dose — $300; 50 mg maintenance dose — $50.

Fitness Tri-Amino Acid Boost

WHAT: Our high bio-availability injections deliver amino acids to aid in the biosynthesis of proteins (Glutamine, Arginine and Lysine), improve athletic performance (Ornithine, Citrulline), and optimize energy production (Carnitine).

This is an IM injection.

Myer's Cocktail IV

WHAT: As one of the first vitamin IV infusions created by Dr. John Myer in 1959, our Myer's Cocktail IV includes a large dose of magnesium. Magnesium relaxes smooth muscle, allowing for relief with muscle tension, bronchospasm, migraines, and other concerns.

It also includes Vitamin C, Vitamin B complex, Calcium gluconate, B12, and sodium bicarb.

TIME: 45 – 60 minute IV infusion in our state of the art massage lounge chairs.

Fit & Toned IV

WHAT: Our Fit & Toned IV contains an amino blend, chromium, and five different B vitamins, which play an important role in energy metabolism, neurotransmitter synthesis, and the methylation cycle. These components are essential in maintaining healthy muscles and blood cells.

Amino blend, Vitmain B complex, Calcium gluconate, Chromium, B12, Mg, Taurine, Zinc, and Sodium Bicarb.

TIME:45-60 minutes IV infusion in our state of the art massage lounge chairs

Simple Hydration IV

WHAT: 

Lactated Ringers 1000 ml
Normal Saline

One liter infusion to help quickly rehydrate.

WHAT:Glutathione is an antioxidant involved in several processes, such as: removing toxins and carcinogens, DNA synthesis and repair, immune system function, prevention of oxidative cell damage, brightening of skin, softening of blemishes, and much more.

Glutathione can be added to any of our IV treatments that don't already include it.

COST: 1000 mg $135 (if already receiving an IV treament, it is $100 add on)

2000 mg $200 ($180 if an add on)

TIME: 10-15 minutes push after initial IV infusion

BHRT (Bioidentical Hormone Replacement Therapy)

Best Seller

WHAT: Bioidentical Hormone replacement therapy (HRT) can replace and optimize declining production of your natural hormones, which often leads to fatigue, reduced energy levels, an inability to maintain muscle mass, muscle and joint pain, and other concerns that inhibit peak body performance. Whether you require testosterone, sermorelin, or replacement of other hormones, treatment is non-surgical and delivered in the form of bio-identical pellets. These pellets are placed under the skin to release a steady dose of hormones.

We use Biote® and are Certified Providers of HRT. Each treatment involves customized, personalized dosing according to each patient's needs, and involves an initial blood draw beforehand.

TIME: The procedure is done under local anesthesia and takes 15 to 45 minutes to complete. There may be one week of sensitivity following treatment. After this period, you resume normal physical activity.

FREQUENCY: Depending on weight, absorption rate, and the extent of deficiency, pellets generally last 5 to 6 months for men and 3 to 4 months for women.

COST: $200 for initial blood draw; Male pelleting: $990; Female pelleting: $590

SCIENCE: "Bio-identical" means these hormone pellets have the same chemical structure and composition as your natural hormones.

Science and research support pelleting as the safest and most effective method of HRT.

Kinetic Pulse (EPAT)

WHAT: Also known as "Extracorporeal Pulse Activation Technology" (EPAT), kinetic pulse therapy involves delivering kinetic pulse waves to the treated area(s) via a handheld wand.

This helps break up scar tissue, connective tissue repair, and cellulite.

The pressure waves "penetrate" tissue to activate metabolic processes and connective tissue, as well as to stimulate tissue repair and regeneration.

COST: $250 per treatment; $900 for a 4-treatment package

TIME: Varies by number of treatment areas, usually about 15 minutes per area.

One to two treatments per week, for 1-8 weeks depending on your needs.

FREQUENCY: One to two treatments per week for 1 to 8 weeks, depending on your needs.

SCIENCE:
EPAT is FDA-approved to lift, shape, and manipulate muscle tone in addition to promoting tissue healing. Kinetic pulse therapy can also firm and tone the skin, assisting in scar fading and skin dimpling as well. There are no incisions or needles necessary during treatment.

EBO2

WHAT:Short for "Extracorporeal Blood Oxygenation and Ozonation," EB02 is a leading-edge therapy in which the entire volume of a patient's blood (5-7 liters) is circulated through a filtration system while it's being infused with ozone.

This ozonated blood delivers high levels of oxygen to injured areas of the body, helping to promote tissue healing while the filtering process removes toxins and other impurities. This can reduce inflammation and swelling. While EBO2 can be a valuable part of any person's wellness plan, we often see patients finding relief for symptoms from physical injuries, fatigue, long Covid, Lyme disease, inflammatory and autoimmune disorders, post race recovery, and other conditions.
Biohacking

By ages
During this life stage, most men and women are at their physical prime.

Keep your body functioning at optimal levels with infusions of amino acids, such as those found in our Fitness Amino Boost or our Lean and Toned IV.
Add glutathione to reduce oxidative stress and inflammation.
Get educated on your body's composition and core components — such as fat, protein, minerals, and body water — by scheduling a Body Composition Analysis.

Injuries that occur in this age group may take longer to heal.

Biohackr offers Kinetic Pulse Wave Therapy, which is an FDA-approved technique to treat chronic injuries and help soft tissue healing.
Biohackr Health is also one of few locations in the country with the world's most advanced medical ozone therapy unit for Extracorporeal Blood Oxygenation and Ozonation (EB02). This leading-edge therapy infuses injured areas with high levels of oxygen to promote tissue healing while filtering and removing toxins and impurities to reduce inflammation.

By the age of 50, your body's natural productions of glutathione and NAD+ are declining.

Start with diagnostics. Have your testosterone levels and body composition been analyzed?
If improving muscle mass is your main objective, testosterone therapy and a peptide called sermorelin can help achieve your goal.
Regular boosts and infusions with this peptide and co-enzyme will replenish your cells, helping assist with aging and inflammation in your muscles and joints.
Testimonials