About Our Team
Biohackr Health has pioneered an innovative medical facility aimed at enhancing your cognitive, physical, and sexual well-being. Our approach integrates scientifically grounded regenerative medicine and anti-aging treatments under the watchful eye of qualified physicians.
Unlike conventional medical practices, Biohackr Health embodies flexibility and customization, enabling our expert team to harness emerging technologies and adapt them to your unique needs. Embrace optimization today for a future of improved aging. Get to know our team below!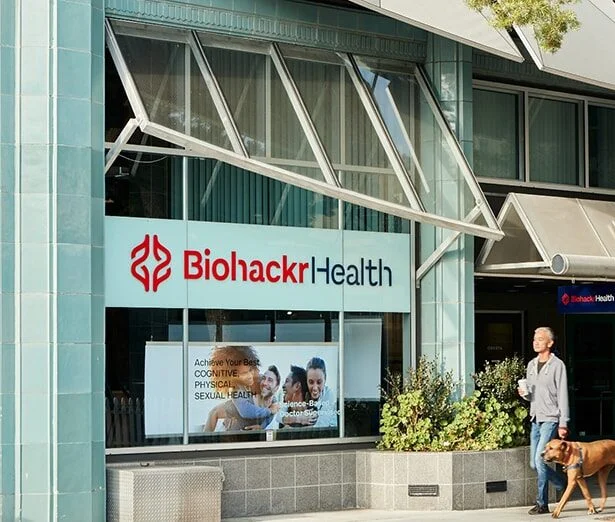 Explore Topics on this Page:
Our Team
Biohackr Health was founded in the Bay Area. California is focused on health, and Silicon Valley is a unique place, where entrepreneurial professionals mix with medical professionals, and we asked ourselves, how can we do better? How can we age better? What new "tech" is out there?
And Biohackr Health was born.
CHARLES CHI
Charles Chi is a Silicon Valley tech entrepreneur and venture capitalist who discovered his passion for alternative health, wellness and fitness, and co-founded Biohackr Health. "There are many proven protocols in use world wide for people to improve and even accelerate their health and wellness yet access is limited within our traditional healthcare system. I co-founded Biohackr Health with medical professionals who share this belief"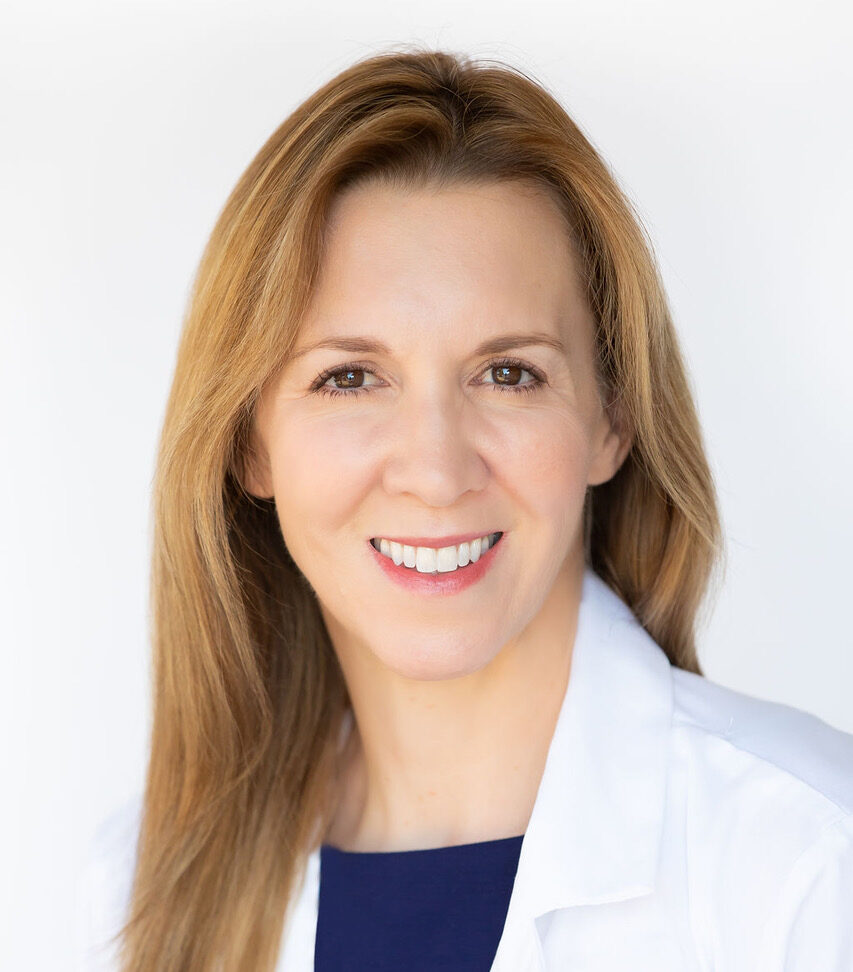 LORI BLUVAS M.D.
Dr. Lori Bluvas is a Board-certified Obstetrician/gynecologist who has been in private practice in the San Francisco Bay Area for over two decades. In 2021, she co-founded Biohackr Health to help improve access to emerging science and technologies in the field of Regenerative Medicine. Her primary areas of focus are Bioidentical Hormone Replacement Therapy and Women's Sexual Health. In her private practice, she additionally specializes in recurrent pregnancy loss and natural childbirth. Dr. Bluvas graduated from Brown University and then returned to her home state of Minnesota for medical school and residency training. She is currently affiliated with Freyja Clinic, Sequoia Hospital and UCSF Benioff.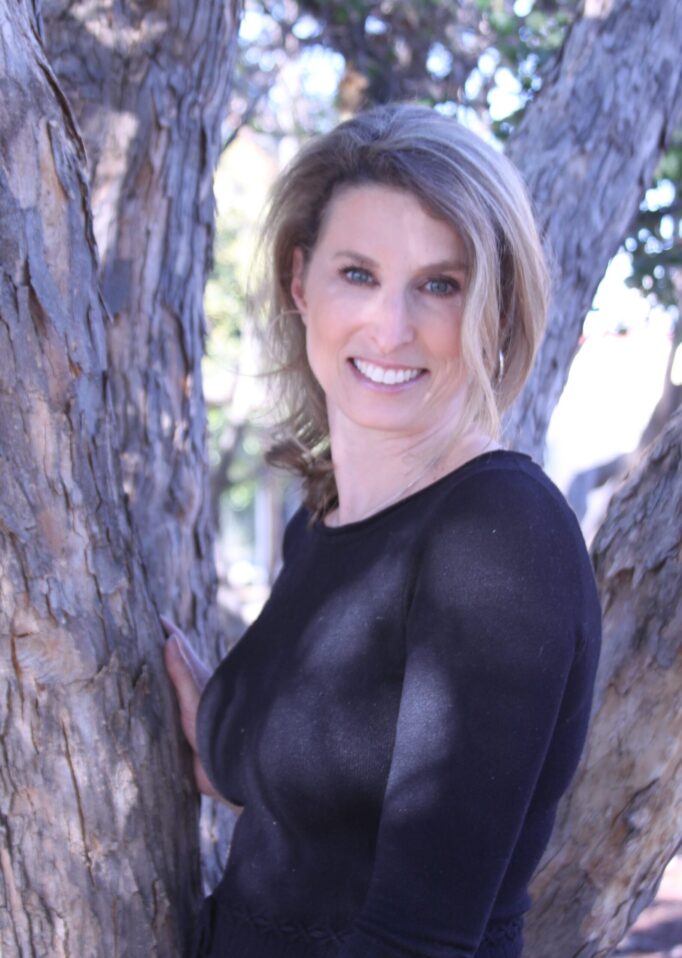 LAUREN GREENBERG M.D.
Dr. Lauren Greenberg is a Board Certified Plastic Surgeon. After undergrad at Dartmouth College, medical school at Northwestern University, and General and Plastic Surgery at Stanford University, she did an additional Breast and Cosmetic Fellowship in Nashville. She opened her boutique private practice in 1999 on Stanford's campus, where she specializes in breast, body, and face surgery. She is active in cutting edge treatments and has been focusing on fat grafting and stem cell treatments for over a decade. She became interested in other whole body health and newer individualized and regenerative treatments to age better (and aesthetically). Dr. Greenberg joined as an advisor for Biohackr Health, to further her focus on newer treatments using science based regenerative medicine and antiaging therapies which frequently cannot be done through traditional medicine.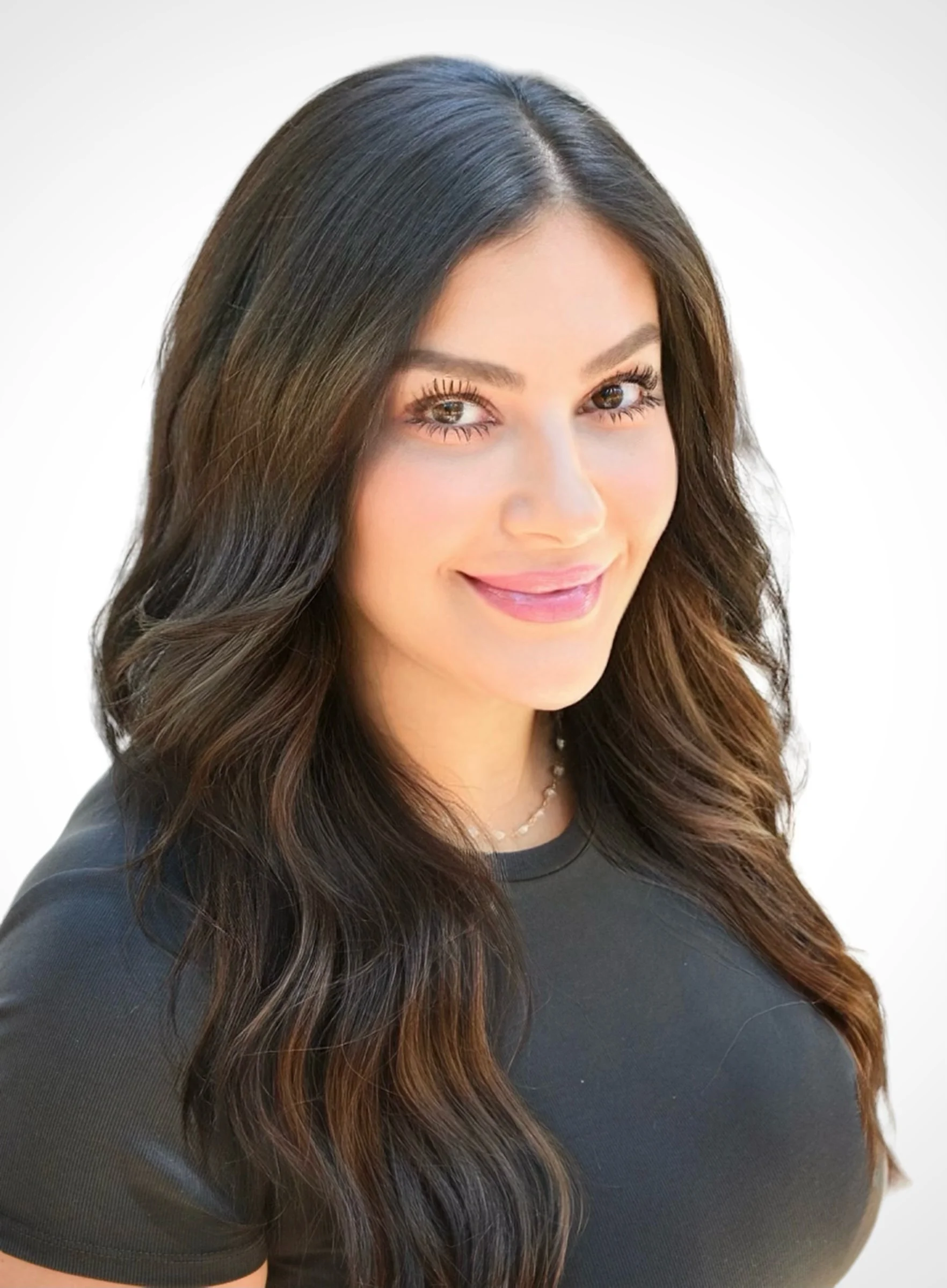 ATOUSA HABIBI R.N.
As a Registered Nurse of over 10 years, Atousa has multiple avenues of experience and accomplishments. She has worked broadly in medicine with Board Certified Ob/Gyne, Plastic Surgeons, Oral Surgeons, Orthopedics, and Internists. She was the lead injector and practitioner at Cupertino Facial Aesthetics for over 6 years. She was most recently VP of Medical Operations for Lookout Health, a mobile health screening and diagnostics company started during COVID to increase access to vaccines and testing, where she ran a fleet and multiple clinics which delivered thousands of treatments. Atousa's true passion lies in Regenerative Medicine and as the Co-owner of Biohackr Health she has devoted herself to the health and wellness of our clients. Wether it's cognitive, aesthetic, sexual or physical needs she delivers the best care and options for our clients as she runs our Clinical Operations.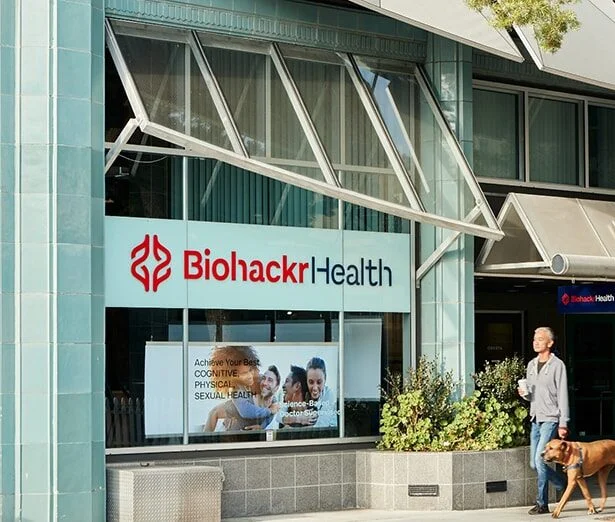 Biohackr San Francisco
Biohackr SF is our flagship clinic located on Union Street in
the heart of San Francisco. This is where we started, focusing first on antiaging and IV therapies, then quickly adopting emerging treatments to improve cognitive, physical and sexual health. As early enthusiasts of semaglutide, our Biohackr weight management programs have had incredible success.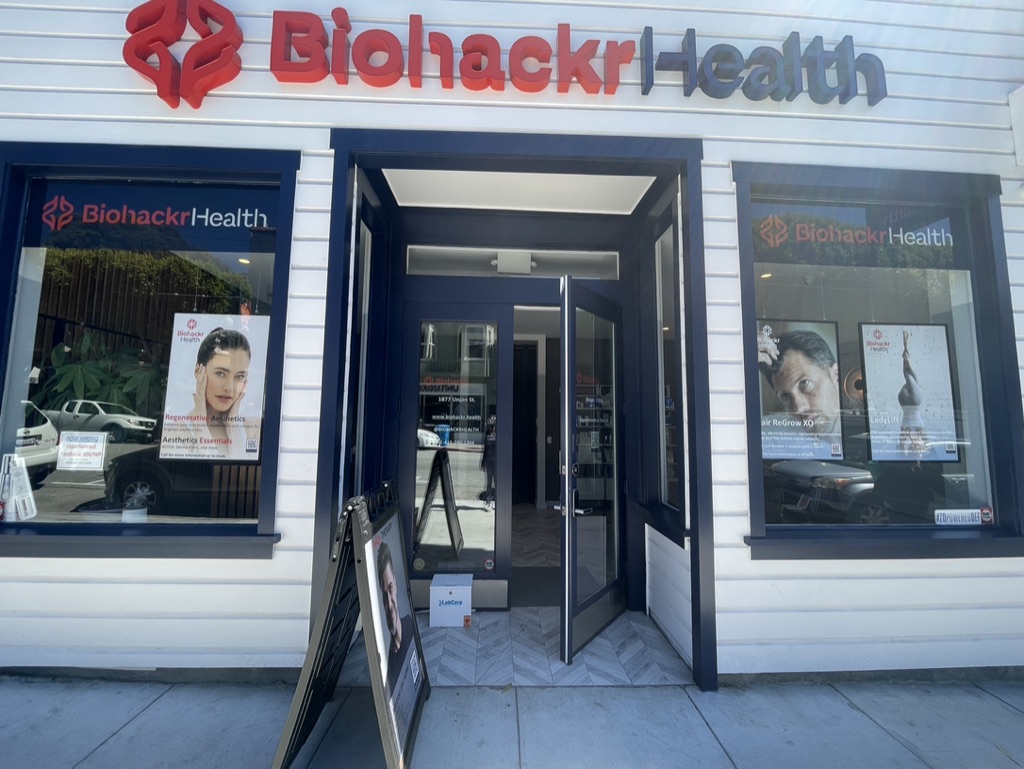 Testimonials
Frequently Asked Questions
What is biohacking?

The art of Biohacking can dramatically impact how you
look, feel, think and perform. Biohacking therapies influence your body's innate systems with the goal of optimizing their performance. Whether it's improving sleep, alleviating pain, boosting memory, losing weight, or living longer, Biohacking is a broad concept that can be applied to many physical and mental health aspects. Individuals can choose the elements to focus on-and how far to take them.

What are some popular biohacking methods and tools?

One of our most popular biohacks is NAD+ therapy. NAD is involved in hundreds of cellular processes including DNA repair and energy production. As we age, NAD levels decrease, contributing to an age-associated decline in mitochondrial function, muscle regeneration
and more. Biohackr Health offers NAD+ via IV infusions, intramuscular boosts, and take-home subcutaneous injection packs.

We also utilize exosomes, which are cellular communicators derived from stem cells, in therapies ranging from hair regeneration to facial aesthetics to sexual health. Any of our therapies designated XO contain exosomes which contribute to regeneration at the cellular level.

Our premier biohacking tool is EBO2, extracorporeal blood oxygenation and ozonation, a
high-volume blood gas exchange that infuses oxygen and ozone into your blood while
removing heavy metals, toxins and inflammatory byproducts from circulation.

Please visit our top ten therapies to learn more!

How can I get started with Biohacking?

Many biohackers monitor their bloodwork. We customize therapy plans for individual goals.
At Biohackr Health, we run blood panels to test hormone production, vitamin, nutrient, and mineral levels, organ health, inflammation, thyroid function, cholesterol levels, telomere health, and cancer screenings. We address deficiencies creating an environment to achieve optimal health. Blood tests can also determine whether supplementation is achieving the desired effect.

Why might I need a Vitamin IV?

When taken orally, vitamins must pass through the GI tract and the liver before entering your general (systemic) circulation. During this process, 70-80% of nutrients are lost, which means ONLY 20%-30% is absorbed by the body, also known as bioavailability. By utilizing IV drip therapy and vitamin shots, we can bypass the digestive system and go directly into the circulatory system, allowing almost 100% absorption.

We have a variety of Premium Vitamin IVs to choose from, or you may opt for a Micronutrient Test, and we'll Customize IVs tailored to your specific deficiencies.

Why are vitamins and antioxidants so important?

Our bodies need a consistent amount of vitamins and minerals to promote homeostasis and optimal health. Vitamin deficiencies can contribute to a variety of acute and long-term conditions. Antioxidants are essential to maintaining a healthy immune system, detoxifying your body, and removing free radicals that can contribute to cellular damage. Antioxidants also play a role in energy production.

Who will be administering the treatments?

Biohackr Health is staffed by licensed and experienced Registered Nurses under the supervision of Lori Bluvas, MD, FACOG. Our nursing staff has had extensive hospital experience throughout the Bay Area and are experts in IV placement, regenerative aesthetics, and weight-loss management.

How long do IV treatments take?

Our IV infusions typically last between 30-45 minutes. NAD+ infusions can take up to 3 hours depending upon the amount of NAD+ being infused.

What is the difference between an IV and a Boost?

The IV is an IV, which has multiple vitamins mixed in a bag of saline, and it takes 45-60 minutes to receive (in our state of the art massage lounge chairs).
A Boost is for a specific vitamin. It is an IM injection, which means it is a quick (less than a minute) injection into your muscle and you are ready to go!

Is IV hydration therapy as good as drinking water?

IV hydration is more efficient in many ways than drinking water alone. The IV hydration therapy process offers you a quicker way to deliver fluids directly into the bloodstream and, as such, is more effective than drinking ordinary water. The difference is that IV fluids comprise a saline solution made of vital vitamins and minerals that help restore your body's water-electrolytes balance at a cellular level.

How long does IV Vitamin therapy stay in your system?

Depending on how quickly your body metabolizes and uses the vitamins, the effects can be felt for approximately three days to a week. Some may feel the benefits longer, but it depends upon a number of different factors, such as the type of drip you get, the reason for drip, lifestyle, etc.

How frequently can I get an infusion?

Depending on the infusion, some patients get an IV infusion up to twice a week. You have the option to do weekly, biweekly, or monthly treatments depending on your individual needs. We recommend getting an IV when you feel the need to boost your energy levels, boost your immune system, travel frequently, or want to maintain optimal health.

I eat a healthy diet. Is IV Vitamin Therapy necessary?

Eating healthy is a great head start, but it can be hard to get all your nutrients just from the foods you eat., particularly if you follow a vegetarian or vegan diet. IV vitamin therapy ensures your body has the nutrients it needs to operate at its best. You can do our micronutrient testing to analyze what you are deficient in.

What can I do while the IV is being administered?

We have luxurious IV lounges with zero-gravity massage chairs, snacks, tea, sparkling water, and all the accouterments for an enjoyable spa experience.

What happens when the IV is done?

The nurse will remove the catheter from your arm (don't worry; it's painless!) and place a small dressing of gauze and coban self-adhesive wrap on the area. The wrap will apply slight pressure to the injection site to prevent any bleeding or bruising. We recommend you keep the dressing on for about 20 minutes.

How does Botox work?

Botox is a neurotoxin injection to block specific muscles in the face to improve wrinkles. Common areas injected are the forehead lines, the "11" between the eyebrows, crows feet around the eyes, the banding muscles in the neck, and fine lines around the mouth. It is also great for those who grind their teeth at night or have TMJ issues. It is a quick injection. The wrinkles will slowly lessen over time. Usually Botox is done every 3 -4 months.

How can I avoid bruising?

With any injection, bruising is a risk. Look at what medications you are on and what supplements you take. Collagen, flax seed, fish oil, and Vitamin E are common supplements which increase bruising. For medications, aspirin, NSAIDS like Advil, and any known blood thinners may increase bruising.

How long does it take to see results from biohacking?

Effects of Vitamin injections or IV therapy are felt almost immediately. Biohacking though isn't a "one and done" approach. These treatments and adjustment to diet and lifestyle are to create a program to improve aging. You may see and feel the effects of NAD and hormones quickly, but for the fundamental changes and improvements, it may take months and consistent therapy to see results.

Will my insurance cover these treatments?

Unfortunately, we do not take insurance at this time. We strive to provide our services at a reasonable price that ensures the highest level of quality and care.

Is biohacking only for people with medical conditions?

Biohacking is primarily for healthy people with the goal of obtaining optimal health. As with many things, there are levels of dedication to biohacking. You can dip your toe in with assessing levels of nutrients and hormones and optimizing those. You can try to actively reverse aging more aggressively with NAD and glutathione. You can do our Biohackr Benchmark Program to do a deep dive into your genetics, catrdiac risk, lipid profile, insulin sensitivity, hormone levels and more to get a whole body picture of where you are, what your risks are, and what therapies may be best to optimize YOU.