Goals
Achieving and maintaining a healthy weight can be challenging. There are innovative and effective ways to help your body improve muscle mass, increase energy levels, and assist in fat and glucose metabolism.
We offer popular treatments such as semaglutide, sermorelin, testosterone, Metaboboost IM injection therapy as well as unique interventions using peptides, amino acids and trace minerals which can help with insulin regulation, glucose metabolism and building lean muscle mass.
Semaglutide has become a cornerstone of weight loss. We offer a monitored comprehensive program, with assessment of labs, vital signs, and body composition during your weight loss journey. We have had hundreds of patients, and we offer an at home program as well.
As with all Biohackr Health services, we tailor your treatment to you.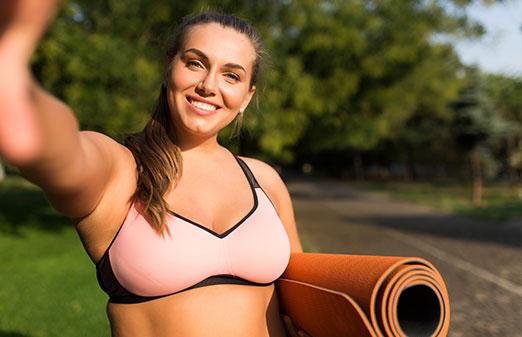 Explore Topics on this Page:
What Concerns Do You Wish to Improve?
Weight Loss

Weight loss treatments offer the advantage of professional guidance tailored to an individual's unique needs and health considerations, increasing the likelihood of sustainable and healthy weight management. Seeking treatments can lead to improved physical health, reduced risk of obesity-related conditions, and enhanced overall quality of life.

Muscle Mass

Through different therapies at Biohackr, individuals can experience enhanced physical performance, increased metabolism, and improved body composition, contributing to overall physical well-being and functional ability.

Weight Maintenance

Weight maintenance treatments offer valuable strategies and support to individuals aiming to sustain their desired weight, preventing fluctuations that could negatively impact health. These treatments can lead to improved long-term weight management, reduced risk of weight-related health issues, and a more stable and balanced lifestyle.

Energy Levels

Treatments aimed at enhancing energy levels can result in increased productivity, mental clarity, and overall vitality, enabling individuals to better engage in daily activities and pursuits. These treatments may help alleviate feelings of fatigue, improve mood, and support an active and fulfilling lifestyle.
Therapies
WHAT: Semaglutide is a GLP-1 medication is used to manage weight and high blood sugar level. Weekly injection of semaglutide works by slowing the gastric emptying and decreasing the appetite. No commitment for several months is necessary.

Once your  in clinic baseline labs and  prescription are approved (within 48 hours), you can get your first injection.

TIME: Weekly injection of GLP-1 medication. After your first injection we have a take home plan (some restrictions apply).

COST: Baseline intake, which includes labs, vital signs, In Body composition scan, weight loss consult, including 4 injections of semaglutide and one vitamin injection and a Rx approval. $900

Monthly fees after intake, which includes a monthly InBody Scan and vital signs:

4 injections .25-1.25 mg = $600: 4 injections 1.5 – 2.4 mg = $800

Sermorelin

WHAT: Sermorelin is a peptide analog of growth hormone releasing hormone.  This partners with the pituitary to stimulate growth hormone, which can give more energy, better sleep, and is thought to help with weight management.

TIME: Daily injection at home.

Testosterone Replacement Therapy

Best Seller

WHAT: BHRT (Bioidentical hormone replacement therapy) is a non-surgical procedure to optimize hormone levels and improve overall health. Imbalance of hormones can cause multiple symptoms, including reduced libido, low mood, weight gain, and fatigue.

As a Biote Certified provider, we provide a hormone pellet therapy to optimize and balance your hormones. Feel happier, healthier, and stronger with bioidentical hormone therapy.

TIME: For men, pellets last up to 5-6 months, depending on weight, absorption rate, and the amount of deficiency.

For women, pellets last up to 3-4 months, depending on weight, absorption rate, and the amount of deficiency.

COST:

Male Pelleting Procedure: $990
Female Pelleting Procedure: $590

Fit and Toned IV

WHAT: Aminos Blend, Chrominium, B complex, Calcium gluconate, Dexpanthenol, B12, Mg, Taurine, Zinc, Sodium bicarb.

TIME: 45 -60 minutes in our IV state of the art massage lounge chairs

Fitness Boost

TIME: Instant IM Injection

Metabo Boost

WHAT: Consists of Methionine an essential amino acid critical in metabolism; Inositol which has a critical function in cellular growth, insulin regulation and the potential for reducing body mass index; Choline for metabolism, muscle movement, liver function, healthy brain development, and nervous system; B6 for proper function of sugars, fats and proteins in the body; and Hydroxocobalamin also known as B12 to maintain the health of your metabolism, blood cells and nerves.

Bioidentical Hormone Replacement Therapy

Best Seller

WHAT: As men and women reach middle age and hormone levels change, it is common to see increased weight and body shape change.

Hormone balance becomes more important in maintaining a healthy weight.

TIME: The procedure is done under local anesthesia and takes 15 to 45 minutes to complete. There may be one week of sensitivity following treatment. After this period, you resume normal physical activity.

FREQUENCY: Men receive treatment every 5 to 6 months.

Women receive treatment every 3 to 4 months. Follow-up labs are done after 4 to 6 weeks (no charge).

Symptoms improve gradually two – four weeks after insertion.

COST:

$200 for initial blood draw at Biohackr (This Biohackr basic panel includes among other things a typical medical panel, CBC, iron, D, testosterone, estradiol, FSH, and thyroid, and for men the tumor marker PSA)

Male pelleting: $990

Female pelleting: $590

SCIENCE: Bio-identical hormone pellets have the same chemical structure and composition as your natural hormones, allowing you to balance fluctuating hormone levels as you age and optimizing function of a given hormone. Science and research support pelleting as the safest and most effective method of HRT.

Commonly used for energy, brain fog, joint pain, night sweats, vaginal dryness, and libido.
Biohacking

By ages
It is important to get your Body Mass Index below 25. Higher BMIs will contribute to earlier struggles with hypertension, hyperlipidemia, diabetes and cardiovascular disease. If your Body Mass Index is 25 or higher BMI CALCULATOR, come see us for an OPTIMIZE WEIGHT program that is custom tailored to you.

Hormone and Glucose metabolism can start to negatively impact weight, and modifications in activity and caloric intake become less effective as we age.

We recommend testing your hormone levels and considering semaglutide or sermorelin depending on your initial Body Mass Index, goal weight, and other health issues and concerns. BMI CALCULATOR

Building muscle mass is particularly important as you hit middle age. Our InBody Scan can help you assess your muscle and fat composition.

Bioidentical Hormone Replacement and Testosterone therapy can be an important factor in weight loss and weight maintenance for men and women above 50.

Amino acid infusions (such as those found in our Fitness IV) and Chromium and L-Carnitine (ingredients in our Metabo Boost) will help your body reach and maintain a healthy weight as your body ages.

Building muscle mass is particularly important to maintain your metabolism and help with bone health. Cardio is not enough as you age.

If your BMI is over 30, or 27 and over with another medical condition like diabetes or high blood pressure, semaglutide may be recommended.
Packages
Semaglutide Monthly Package

COST: Baseline intake, which includes

labs,
vital signs,
In Body composition scan,
weight loss consultation,
includes 4 injections of semaglutide and one vitamin injection and a Rx approval.

Monthly fees after intake, which includes a monthly InBody Scan and vital signs:

4 injections .25-1.25 mg = $600:

4 injections 1.5 – 2.4 mg = $800

Fit and Toned

Treatment includes:

Consultation with medical staff
Sermorelin peptide (3 month supply)
3 Fit & Toned IVs
3 Metabo Boost or 3 Fitness boost injection (monthly between IVs)
3 Body scans

Cost: $1,450

Fitness Maven

Treatment includes:

Sermorelin (3 months)
3 Fitness IVs
3 Fitness Boosts
3 Body scans

Cost: $1,450
Testimonials