Goals
Anti-aging is a broad umbrella that focuses on whole body enhancement — not only targeting how to slow aging, but also exploring how to improve function and increase longevity. People talk about your age and your "biologic age." Our skilled medical professionals at Biohackr attempt to achieve anti-aging at the cellular level by focusing on science-based research regarding mitochondrial function, nutrients, inflammation, hormones, and telomere length.
As you age, your cells become clumsier in how they perform. They don't turn over as quickly and cannot repair damage as well, leading to a phenomenon called "cell senescence."
We see this as aging, which affects every cell and organ of your body. What does this look like?
How can you improve longevity?
Brain function?
Whole body health, which affects sleep, activity, and stamina?
How does this influence skin aging and hair thinning?
By improving yourself at the cellular level, enhancement can be seen everywhere.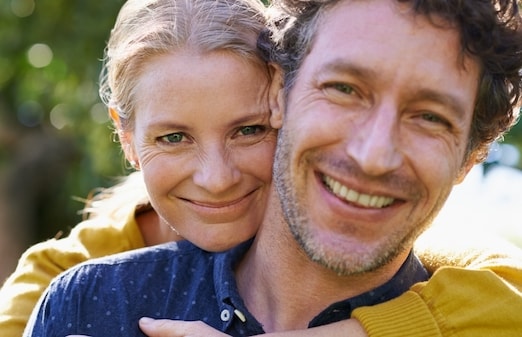 Explore Topics on this Page:
What Concerns Do You Wish to Improve?
You'll notice the non-surgical therapies at Biohackr often provide benefits that overlap in different areas — improvement in the brain can yield positive effects for the skin, hair, and body as well. This offers a holistic, whole-body approach to optimizing your health and achieving your goals.
Brain

The science-supported treatments at our clinic can do wonders for cognitive function. Regenerative medicine and anti-aging therapies can reduce brain inflammation, improve brain fog, regulate your sleep cycle, enhance energy conversion, and optimize overall function.

Skin

Aging visibly reduces the integrity of the skin and patients often contend with a loss of support, volume, elasticity, and tone as they get older. Our therapies enhance skin at the cellular level by introducing antioxidants and enzymes that can brighten the skin, clear blemishes, and comprehensively maximize skin health.

Hair

Hair loss is a concern for countless men and women of different ages. We understand that thick, full hair is considered a sign of youth and fitness, which is why we offer several therapies to reinvigorate the hair follicles and catalyze growth in sparse or thinning hair.

Anti-Inflammation & Whole Body Anti-Aging

Inflammation and inflammatory responses by the body generally increase as you age, particularly in patients who smoke or have an autoimmune disorder such as diabetes, arthritis, lupus, and other conditions. Our treatment options reduce inflammation and encourage peak performance, often resulting in far-reaching benefits for your mind, skin, and body.
Therapies
WHAT: "NAD+" stands for Nicotinamide Adenine Dinucleotide, a critical co-enzyme found in every cell in your body. NAD is involved in hundreds of metabolic processes, including cellular energy and mitochondrial health. Our bodies naturally make NAD+, but enzyme production declines with age. Reduced levels of NAD+ appear to play a crucial role in the development of metabolic dysfunction and age-related diseases. We deliver NAD+ by intravenous therapy (IV) to absorb actual NAD+, and not the precursors to NAD+ found in supplements.

TIME: Therapy with NAD+ usually takes longer than the usual vitamin IV. Allow yourself 90 to 120 minutes or more to complete an IV per each 250 mg/dose.

COST: 1000 mg single dose of NAD+ with one liter of hydration included — $700; 500 mg dose — $400; 250 mg dose — $300; 50 mg maintenance dose — $50.

SCIENCE: Research shows NAD+ plays important roles in energy conversion, DNA repair, immune defense, and sleep cycles. The enzyme activates sirtuins and other enzymes involved in DNA repair and anti-inflammatory responses. It also helps protect blood vessels against age-related hardening. NAD+ can also increase metabolism, muscle strength, and endurance.

TESTIMONIAL: "Our staff has found it is helpful for brain fog, mood, sleep cycles, cellular repair and overall well-being."

Brain Power IV

WHAT: This is our only IV containing Alpha Lipoic Acid, which is neuro-protective. On top of the IV's cognitive benefits, the Brain Power IV improves nervous system blood flow and conduction. It's also anti-inflammatory and decreases free radicals — this action is essential for mitochondrial health and may delay aging. One neuron contains hundreds to thousands of mitochondria. Our Brain Power IV also contains B-complex vitamins, which are crucial for nervous system maintenance. Treatment is followed by a 1000 mg glutathione push, the master antioxidant that has been shown to decrease brain inflammation.

TIME: 45 – 60 minutes in our IV state of the art massage lounge chairs

SCIENCE Alpha-Lipoic Acid (ALA) is an important natural mitochondrial compound for your brain, and it is an antioxidant and anti inflammatory. It is one of the most used "brain health" supplements.

Beauty IV

WHAT: Biotin, Vit C, B complex, Dexpanthenol, with Glutathione 1000 mg IV push

TIME: 45 – 60 minutes in our IV state of the art massage lounge chairs

Immunity IV

WHAT: Our Immunity IV contains the most vitamin C at 12,000 mg. Along with higher doses of vitamins B5, B6, and zinc, the Immunity IV is an immune super-booster that also promotes skin health and the regulation of cytokines, which cause inflammation. Treatment is followed by 1000 mg of glutathione, a primary antioxidant that's important in neutralizing free radicals, enhancing liver health, and much more.

TIME: 45 – 60 minutes in our IV state of the art massage lounge chairs

The Boss IV

WHAT: A staff favorite, the Boss IV provides energy and anti-inflammatory health benefits. It contains a diverse panel of vitamins: 9 grams of Vitamin C, Calcium B12, B complex, taurine (an amino acid essential for heart health and brain plasticity, which helps with memory and learning). Treatment is followed by 1000 mg of glutathione — an essential antioxidant in neutralizing free radicals, improving liver health, and aiding in other important bodily functions.

TIME: 45 – 60 minutes in our IV state of the art massage lounge chairs

BHRT (Bioidentical Hormone Replacement Therapy)

Best Seller

WHAT: Bioidentical HRT involves using hormone pellets to regulate hormonal imbalances and replace decreasing hormone levels caused by aging.

Most patients seek this therapy when they experience the symptoms of decreased hormone production due to aging or menopause. The pellets are placed under the skin and can conveniently provide a steady level of hormones (only a few insertions a year).

We use Biote® and are Certified Providers of HRT. This involves customized dosing, personalized to each patient, and involves an initial blood draw before pelleting treatment.

TIME: The procedure is done under local anesthesia and takes 15 to 45 minutes to complete. There may be one week of sensitivity following treatment. After this period, you resume normal physical activity.

FREQUENCY: Men receive treatment every 5 to 6 months.

Women receive treatment every 3 to 4 months. Follow-up labs are done after 4 to 6 weeks (no charge).

Symptoms improve gradually two – four weeks after insertion.

COST: $200 for initial blood draw at Biohackr (This Biohackr basic panel includes among other things a typical medical panel, CBC, iron, D, testosterone, estradiol, FSH, and thyroid, and for men the tumor marker PSA)

Male pelleting: $990

Female pelleting: $590

SCIENCE: Bio-identical hormone pellets have the same chemical structure and composition as your natural hormones, allowing you to balance fluctuating hormone levels as you age and optimizing function of a given hormone. Science and research support pelleting as the safest and most effective method of HRT.

Commonly used for energy, brain fog, joint pain, night sweats, vaginal dryness, and libido.

Bioregenerative face XO

WHAT: Performed for women and men, our Signature Bioregenerative face XO is a multi-step therapy that leads to a youthful glow, reduction of fine lines and blemishes, and brighter skin. Initial glow is visible in a few days to one week. As your own skin rejuvenates itself and produces more collagen, peak effect occurs in 2-3 months that lasts several more months. Downtime involving redness lasts a few hours for most patients. Steps consist of:

Fractional laser
Medical-grade microneedling
Platelet Rich Plasma (PRP) or Platelet Rich Fibrin (PRF)
Exosomes
Hyaluronic Acid topically applied
Red laser to promote healing
Barrier cream

TIME: Approximately one hour

FREQUENCY: Typically done as a 3 session package, 4 weeks apart. The face may be red for 24 hours.

Maintenance treatments are usually every 6 months to a year.

COST:
1 session: $1,500
3 sessions: $3,600

Hair Regrow / Hair Regrow XO

Best Seller

WHAT

Oral Meds – Nutrafol
A daily hair growth supplement made for hair thinning. The award-winning formula results in faster-growing, thicker, fuller, stronger hair. It consists of a proprietary blend of A, D, C, zinc, selenium, amino acids, biotin, Synergen.

Minoxidil
More commonly known as Rogain, minoxidil is an FDA-approved topical solution scientifically proven to help with hair growth. Five percent is the typical concentration of solution used. It is the gold standard.

Hair Regrow PRP/Exosomes
Hair regrowth can be stimulated with Platelet-Rich Plasma (PRP) and/or exosome therapy, which both use growth factors to enhance thin or balding hair. Exosomes target stem cells in the scalp, while PRP kickstarts tissue repair — both therapies offer an effective hair loss treatment and can regenerate dead or damaged hair follicles.

TIME

Nutrafol: Taken daily. Results usually appear after 6 months

Minoxidil: Applied daily to the scalp. Best used with shampoos that calm irritated scalps. Takes 4 to 6 months to see results.

Hair Regrow PRP/Exosomes: Hair Regrow XO takes 30 minutes to one hour depending on each patient's needs, and is performed once per month for 3 months. Results are usually visible six months after your treatment plan is complete

COST

Nutrafol: $209 for a 3 month package.

Minoxidil:

Hair Regrow PRP/Exosomes:

1 session of PRF is $750, 3 sessions of PRF with one XO Exosome is $2200

SCIENCE

Nutrafol: Nutrafol is physician-formulated with medical-grade, natural ingredients to target the root causes of thinning, such as stress, lifestyle, and nutrition.

Minoxidil: Minoxidil is a vasodilator that improves blood flow to the scalp and stimulates hair growth, thereby increasing hair density and thickness.

Hair Regrow PRP/Exosomes: Performed for patients with thinning hair, this minimally invasive therapy helps hair follicles grow thicker and more abundantly. Results vary, but clients often see their new hair regrow by up to 20 to 30 percent, as well as up to 20 percent increased hair thickness. The procedure consists of platelet-rich plasma (PRP) injections throughout the scalp.

Body EBO2

WHAT: Body EBO2, or Extracorporeal Blood Oxygenation and Ozonation, is essentially modern blood cleansing. This therapy can improve several of the issues that commonly plague patients as they age, such as physical injuries, fatigue, Lyme disease, long Covid, and inflammatory or autoimmune disorders. Performed to optimize general well-being, encourage anti-inflammation, and boost athletic performance.

Body EBO2 involves two IVs — it forms a closed blood circle with a machine, which cleanses the blood using medical grade ozone. These diffusing membranes visually filter old blood from excess fats, toxins, and inactive proteins.

TIME: Approximately one hour.
Biohacking

By ages
Your overall health is likely good. However, you're not immune to damage, and healthy habits now will pay off in the future. Making sure to exercise, wear sunscreen, and optimize your nutrients and nutrition are excellent preventative measures that provide a good place to start.

This is a period of rapid change. You cannot ignore your health. Do you have issues with allergies? Autoimmune dysfunction? Inflammation? Cellular damage you may not be able to see is slowly building. Science-based therapies such as NAD+ and IV nutrients to supplement your health (if necessary), as well as hormone support as your body undergoes fluctuations are key.

The actions you take to optimize your health, mind, and body will influence your life as you enter this older stage. How do you want to live when you're 70 years old? How active do you wish to be? Are you at risk for dementia? What is your biologic age?
Testimonials